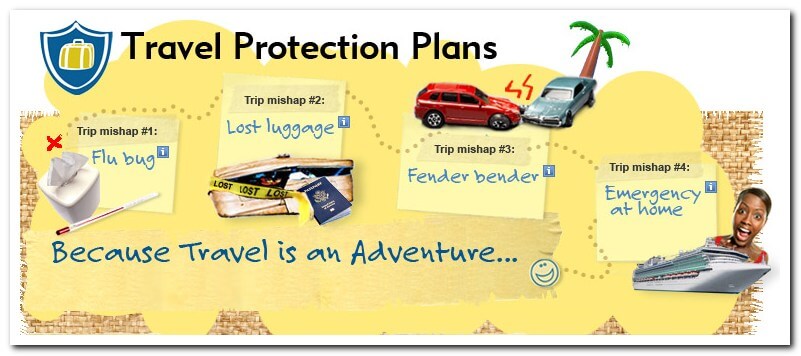 Your luggage is packed and you are leaving for vacation. Or you may have a large trip on business. Or you may simply visit relatives, who live in another state or country. It is not so important, why you are leaving. But there's one thing that for sure you will put into your wallet. It is travel insurance policy. Is it obligatory in USA? In fact, it is not but nevertheless many people prefer buying it before going abroad or even travelling to another state. There are several reasons that make tourists care about travel insurance plans before they go somewhere. The reasons are the following:
Medical care. Of course you are a prudent tourist and care about your health. But visiting another city or country is always risky. You will taste unusual exotic food that you have never tried before or the peculiarities of the climate in that area may influence you and make you feel worse. Even if you have your medical insurance, it is not always enough to get medical care in another city or country. And paying bills from your own pocket is not a good idea as the amount will be huge.
Problems with luggage. No doubt, you know relatives or friends – at least one person – who has had some problems with luggage – it was lost or something was damaged during the transportation. Or did this terrible situation happen to you yourself? Certainly, the idea to insure your luggage from loss or damage sounds good to your ear. Here's one more reason to look through travel insurance plans.
The next reason is known to those who are fond of extreme sports. These people like to insure themselves from wounds or traumas and besides they insure quite expensive equipment that they usually get for these kinds of sports.
If I have convinced you that studying travel insurance plans is a necessary thing, then let's consider, what services can you get, how much you will pay and what coverage you can expect in case of an emergency.
Insurance plans for travelers can be divided into several large groups like multi trip travel insurance, single trip travel insurance, travel insurance for seniors and travel insurance for active travelers.

Multi Trip Travel Insurance
This insurance policy is recommended to those, who travel several times over the year. This insurance is taken for some long period of time (a year, half a year, 100 days etc). Insurance company usually offers the list of countries, where the policy is active. Thus you can travel from USA to some other state, or to another country – but make sure that the place of your arrival is in the list an agent offers you. If you are a passionate tourist or simply you need to travel a lot by work – this kind of insurance service is for you. There are several types of this insurance (they are divided according to the number of quotes and to the price) Thus it is possible to get an economic variant – minimal list of services for a low cost, standard policy and even premium policy with a number of additional services.
Standard multi trip travel insurance includes medical coverage, luggage coverage and travel assistant services. Besides, due to this policy, you can claim for some amount of coverage if your trip was cancelled or suddenly interrupted.
If the client gets premium policy, he can claim for such kinds of additional services as winter sports coverage (if the client is wounded while skiing, skating etc), business travel insurance (the client insures equipment for his business while travelling), cruise insurance (the client is protected from different problems that occur on the board like port missing, cruise cancellation etc)
As you see, modern insurance companies offer the variety of services for their clients. Consult your agent or broker to find the most appropriate for you.
Single Trip Travel Insurance
If you are not a great lover of trips and you travel just once or twice a year, it is better to choose single travel insurance. This kind of service is taken only once, for a concrete trip to a concrete state or country. The policy may be taken for one person, for a couple or even for a family; in this case children under 18 are included to the policy for free.
There's also the multiple choice of service packages like economic variant, standard one and premium. For standard package such kinds of coverage are included:
Medical coverage (it goes without saying that health is the most important for everyone, so the first aid, hospitalization or expense for an emergency are usually included to single trip travel insurance)
Loss of documents (if you have lost your passport and it was not your fault, you'll get coverage to renew your documents from your insurance company)
Loss of money (If your money was stolen or lost, you can claim for coverage, when this quote is included to your package)
Service for pets if you travel with them (kennel, cattery etc)
Travel Insurance for Seniors
People under 75 are considered by insurance companies as the factor of a higher risk. That's why many companies limit the age of the insured person and usually this limit is 75 years old. Very often insurance agent will offer to sell the package for an elder person, but every five years (after 75) it will cost you more. Nevertheless still travel insurance for seniors is bought in USA. Of course the older the client is, the more he needs medical help or trip assistance and it is the reason why clients are ready to pay for their policy.
Your insurance agent will give you several pieces of advice before he will calculate the amount of insurance payment for you.
Examine the state of your health carefully before going abroad or to another state. Heart attacks, headache, strokes are more often to happen during travelling than at home. If you have at least one reason to cancel or to postpone your trip – never hesitate to do it as health and life is much more precious than some weeks of your vacation.
Check your documents. It is very important to have the full package of your documents and to keep them in the right place. In this case you can be sure they won't be stolen or lost.
Take the necessary remedies with you. Very often people over 75 need to take some medicine every day. Be sure that you have packed it for your trip.
Low Cost Travel Insurance
It doesn't matter, if you are a senior person or an active traveler, if you travel a lot or only once a year – in any case you are eager to save some money and get low cost travel insurance. There are several ideas how to get a discount and save some money.
First of all, if you are travelling with a couple or with your friend, you can get the policy for both of you. As usual, it is cheaper.
Then you can limit the area of your trip. Thus travelling around Europe will cost you less than travelling all over the world. Get the limited policy!
Besides, purchasing the policy online is always cheaper than getting it with an agent. Study all the details of a discount program and you will be able to get the trip insurance plan much cheaper.