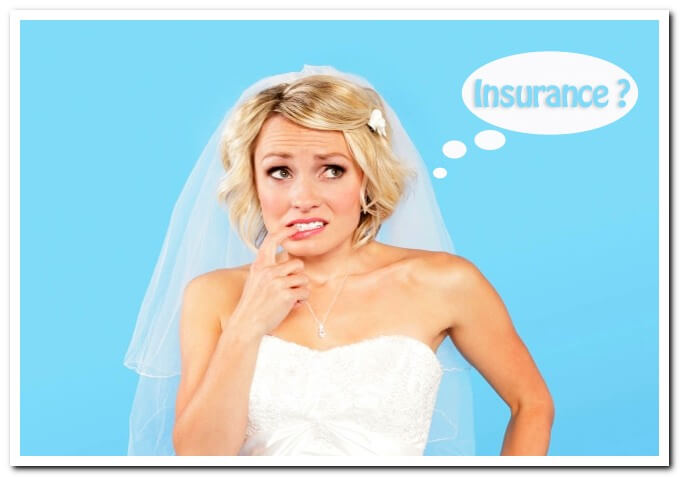 Wedding… It is a day, when two hearts beat together and gradually become a single whole. Together – and forever – have you dreamed about it? You were preparing for this day during the whole life. You were looking for the fiancé (or were persuading him for a long time). Then you booked for that one unique dress, ordered 6 horses, the smart carriage, got the venue and covered plenty of tables for 300 people at the most expensive restaurant. Then you ordered a hotel for guests and of course, prepared ten-storied wedding cake. And suddenly …
The rainfall dropped out, roads were poured, guests didn't come, glades became dirty, wedding rings were lost, the photographer disappeared, a dress got wet like a diving suit, and the fiancé ran away with the mermaid to Maldives. Does it sound like a movie? It does. But still unexpected troubles can happen and nobody is insured from them. Or is it possible to be insured?
Special Event Insurance or a Policy for a Cinderella
Do you remember the moment, when wicked stepmother and angry sisters tear the pink dress of Cinderella, which mice have made for her? She cries and then meets a fairy. If this blond knew about special event insurance, her godmother could lose her job.
Special event insurance is the investment that is made by a policyholder to protect some important event in his life. Festival, big birthday party, baby shower, or first ball of a young lady, or wedding can be insured. These occasions demand a lot of money and several months of preparation. Of course, it is hard to predict, what the weather will look like on that day or if the main heroine falls ill or breaks her leg or not. In the case of cancellation, the person, who organized this event, loses his money. The advanced payments that were made to workers, usually never come back to your pocket. Getting an insurance helps to get the coverage or at least a part of it. Besides it can keep you in a high spirit during this special day of your life. It is very important for the hero of the occasion to remain calm, beautiful and happy. Just let your insurance agent to worry about you – and enjoy your ideal party.
Wedding Insurance or How to Catch a Runaway Bride
When I was a little girl and watched "Runaway Bride" with elegant Julia Roberts, the only thing I could think of, is "who pays for this wedding party?" It was clear even to a child that the amount of money spent for this event, is huge and after disappearance of the bride her fiancé had several reasons to suffer. He had to miss his beloved couple and pay solid bills for the wedding that was cancelled. For sure, fiancé could concentrate on sincere sufferings if he knew about a unique insurance product – wedding insurance. After all the wedding is not just an association of two single souls, it is also the union of two wallets and two bank accounts.
So what coverage does wedding insurance have? The policy of wedding insurance covers possible loss in case of a celebration cancellation or celebration delay.
The wedding policy can cover possible financial loss in such situations as:
Cancellation of a wedding for the reasons, independent of the couple's will such like an illness of one of future spouses, or absence of one of them on a wedding party because of an accident etc.
Natural disasters, bad weather conditions, which make it impossible or extremely inconvenient to arrange a wedding party and that's why it must be delayed.
Even if the wedding took place according to the schedule, but the wedding dress was destroyed, wedding photos were missed; wedding rings or wedding gifts were lost etc coverage could be paid.
The restaurant went bankrupt or ordered by another couple and you knew about it just before the wedding or the makeup artist, the hairdresser, the photographer left you just the last moment and you can't find the change for them.
These problems can never spoil your mood, if you have bought wedding insurance. Even in case of some disaster you can count on the full coverage or at least a part of it. To convince you, let's study some figures. An average wedding party costs to the heroes of this event and to their parents about $20,000. If you get the full coverage, it will cost you about $250. In this case you can be sure that your money will be turned back to you.
The partial coverage (about $5000) will be paid to those, who will get the policy of $40. Even if the part of the amount you have spent on your wedding ceremony will be back, it can improve the situation.
Many new brides and fiancés ask the question, when they can apply for a policy. It is possible to get a wedding insurance two years before the wedding day. It will cost you a nuisance. Certainly, you can apply for wedding insurance policy just a few months before the wedding, but it will cost you more.
It is impossible to speak about wedding insurance and not to tell about liability insurance for wedding.
Liability Insurance for Wedding or How to Behave at Your Best Friend's Wedding?
In 1997 a romantic movie "My Best Friend's Wedding" taught us a lesson that guests at your wedding ceremony are not always eager to help you. Sometimes they can spoil everything. To protect you from such jealous guests, liability insurance for wedding is necessary.
The liability insurance policy can include the following options:
Liability of the couple and their guests for material damage or thread of life and health of the third parties.
Liability for actions of guests and the couple if they got drunk.
Liability for cancellation or delay of the wedding day or even its rehearsal.
Many restaurants and hotels of America demand liability wedding insurance when they are rented for a wedding. Such policy can be bought in 24 hours before wedding.
The prices of this type of insurance depend on a venue of a celebration and the price of the wedding in general. If the liability insurance is got together with the general wedding policy, the insurer receives an additional discount of 15%. It also includes insurance liability of the groom and bride (and also their guests) for the harm they could do to the third parties.
So, weddings are different. They come to us from childhood in our dreams. They catch our attention in movies and cartoons. We admire them in the streets. It is a remarkable event in the life of any person. To be sure that you are protected, you can claim for a wedding insurance policy.